Eleonora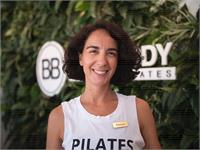 Eleonora instructs the following:
Our reformer pilates class is tailored to all ages and fitness levels. It is perfect for those just beginning, for our Mum's to be, those recovering from an injury or if you are wanting to try a challenging pilates class. We can modify the moves to suit your abilities and goals!




This class is designed to enhance your body and overall health as a new Mum. Focus is placed on strengthening your pelvic floor and abdominals while toning your entire body.

Our Mum's n Bubs classes are designed for babies up to 14 months old. Once your baby discovers their feet you may prefer to switch to other baby free classes for your own personal enjoyment.

Please bring suitable sleeping arrangements for your bub such as a bassinet or pram in case they get sleepy throughout the class. Be prepared to meet new like-minded people and enjoy a laugh or two together!




The dynamic exercises in this high paced class guarantee a full body cardio and strength workout that will leave you feeling energized and excited to come back for more!

This class will get your heart rate up to ensure maximum fat burning, while still getting all the added benefits associated with Pilates!